STEEL
Two-Part Polyurethane, Epoxy Primed Paint Finish
Provides hundreds of hours of UV and salt spray
protection
Stainless Water Connection
Tested pipe-to-vessel (Steel to polypropylene)
connection for leak-free, maintenance-free use.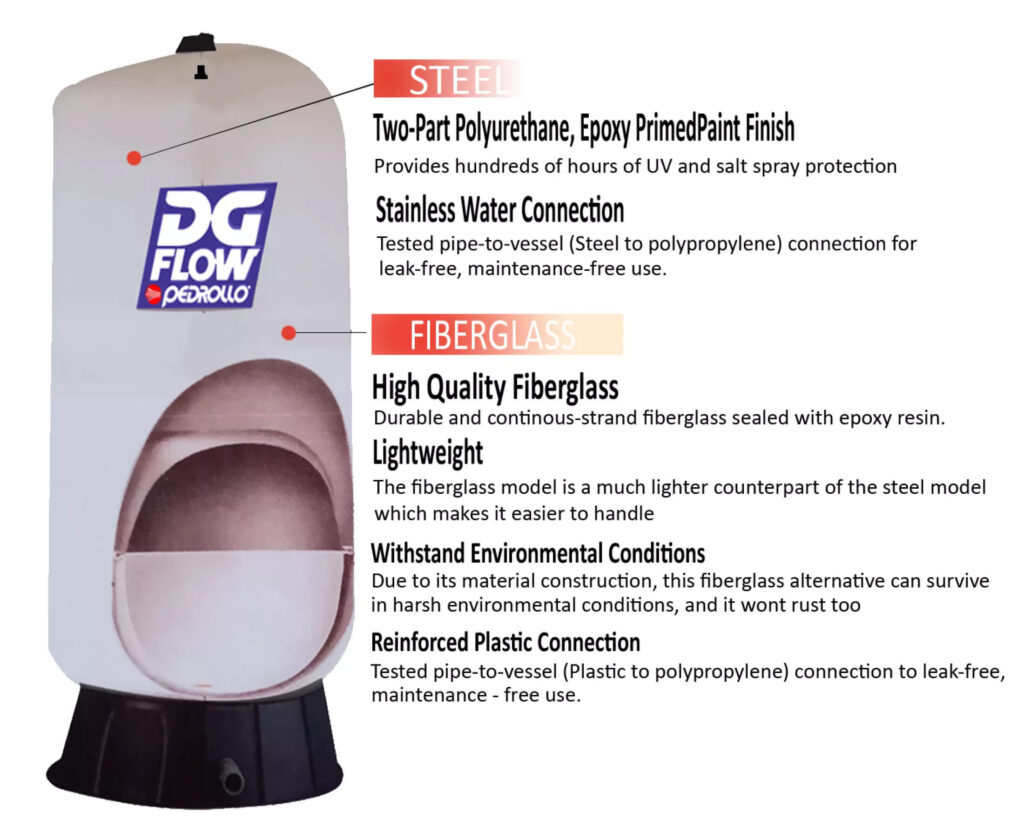 FIBERGLASS
High Quality Fiberglass
Durable and continuous-strand fiberglass sealed
with epoxy resin.
Lightweight
The fiberglass model is a much lighter
counterpart of the steel model which makes it
easier to handle
Withstand Environmental Conditions
Due to its material construction, this
fiberglass alternative can survive in harsh
environmental conditions, and it wont rust too
Reinforced Plastic Connection
Tested pipe-to-vessel (Plastic to polypropylene) connection to leak-free, maintenance – free use.
FEATURES :
Water Log Free, No Maintenance :
No more water log, which means no more draining unlike in conventional pressure tanks
CAD-2 Diaphragm Technology:
Free of creases, unlike the bag system of bladder tanks, which causes punctures overtime.
High grade Butyl Diaphragm and Polypropylene Chlorine resistant and USFDA approved food grade materials in contract with water ensuring a contaminant-free supply.
100% Drawn down Efficiency :
Water inside the tank is 100% completely expelled upon need without the help of the water pump because it will always be pressurized, unlike conventional tanks that store water at no pressure due to water logging.
Single Piping Installation
Installation is simple with the single pipe,
hassle free application.
Space saving
The diaphragm exerts pressure on the water, thus requiring less air space, reducing tank size up to 65% for the same water capacity
Extend Pump Life : Prevents the pump from quickly turning on and off
Rigorous Quality Testing :
Each product is thoroughly tested in various phases of production to ensure quality and longevity