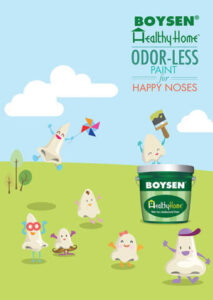 BOYSEN® Healthy Home™ is a odor-less, low VOC, premium acrylic, water-based interior coating with exclusive Microban® antibacterial protection to give extra defense against bacteria such as E. coli and Salmonella, as well as mildew and fungus.
BOYSEN® Healthy Home™ dries to a durable satin finish that makes it ideal for walls and ceilings in bedrooms, kitchens, bathrooms, as well as damp and humid areas where an added level of protection against microbes is desired.  Microban® technology is incorporated into the paint at the manufacturing stage and does not wash or wear off for the duration of the paint's service life.
PRINCIPAL USES: BOYSEN® Healthy Home™ is the ideal choice for residences, medical facilities, nursing homes, schools, day care facilities, and food commissaries.  For interior concrete and drywall surfaces.
PRACTICAL COVERAGE: 25-30 square meter / 4 liters / coat
SURFACE DRY: Thirty (30) minutes
DRY THROUGH: Two (2) hours
DRY FILM THICKNESS: 1-1.5 mils/coat
OVERCOATING INTERVAL: Allow one hour before recoating.
THINNING: Use as supplied.
APPLICATION: paint brush, roller or airless spray
PACKAGING: 4-liter cans
COLORANTS: Use only factory or Mix-and-Match™ pre-mixed colors
SURFACE PREPARATION:
• Allow new concrete to dry for 14-28 days under normal weather conditions before painting.
• Surface to be painted should be clean and dry, free from oil, grease, dust, dirt, contaminants, and all loose grit and mortar.
• If neutralizing, treat surface with a solution of 1 part BOYSEN Masonry Neutralizer B-44 diluted in 16 parts water, applying liberally by brush or roller. Let dry overnight before rinsing with water to remove white crystals that form on the surface. Let dry before painting.
Note: If the concrete has been cured for more than 28 days, there is no need for neutralizer.
PAINTING SCHEDULE:
Primer: BOYSEN Permacoat Flat Latex B-701
Putty: BOYSEN Masonry Putty B-7311
Topcoat (2 coats): BOYSEN Healthy Home